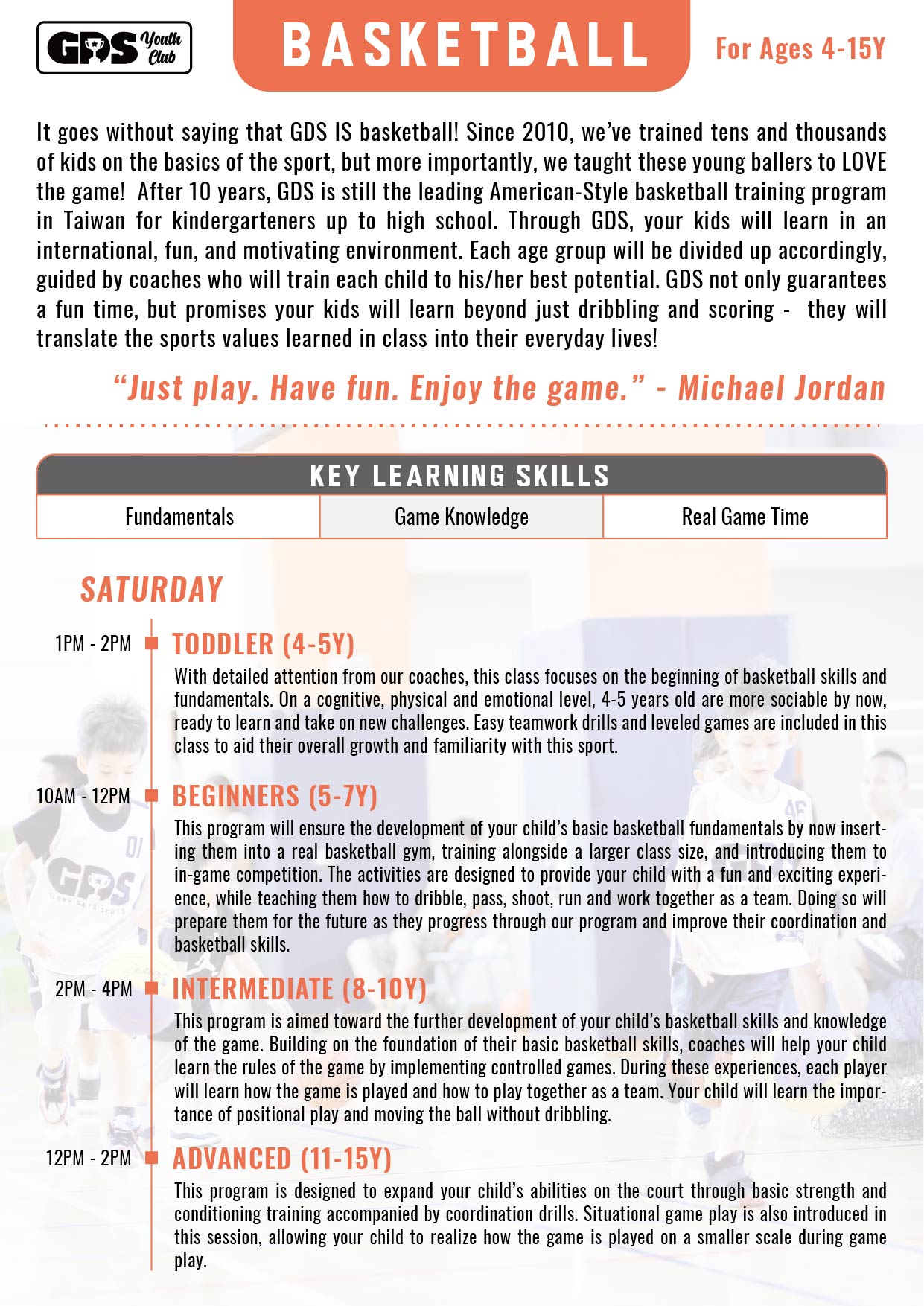 "All kids need is a little help, a little hope and somebody who believes in them." – Magic Johnson
The Coaching Staff at GDS comes from all over the world! Together, they do have one main thing in common: the LOVE for teaching and inspiring kids of al ages! At GDS, all of our coaches have lengthy years of experience in their expert field and have all lived in Taiwan for quite some time to spread their positivity. They all have their own unique sets of talents and personalities that are seen in their coaching style.
COACH ANDY
Name:
Andy Chiu
Hometown / Nationality:
Taiwan 🇹🇼  / Canada 🇨🇦
Experience:
– 3 years Varsity High School Team in Canada
– 10+ Years Rec League & Tournament Experience
– 2 Years Private Team Coaching Experience
– 9 Years Working Experience with GDS
– GDS Spotlight HBL Teams, GDS U12 & U15 Teams, GDS NIKE ShangHai Tournament U12 & U15 Teams
COACH MATT
Name:
Matthew Hibbs
Hometown / Nationality:
Albuquerque, New Mexico 🇺🇸
Experience:
– 4 years varsity high school team
– 3 years New Mexico, State tournament
– Eastern New Mexico University practice team 2012
– New Mexico games 3on3 champs 2013
– 8 years Estancia Youth and Development (EYDG) League & Tournament experience
– 6 year's Coaching Experience with EYDG
COACH DEREK
Name:
Derek Blesam
Hometown:
Koror, Palau
Experience:
– 4 years varsity high school team
– 1 year basketball referee
– 1 year in the 18 and under national team
– 1 year assistant coach
Do you want to join our team?
If you or you know somebody who is interested in joining our team of fun-loving GDS instructors, please feel free to contact us.